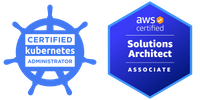 Qualification Summary
Cloud Engineer specialized in AWS and Kubernetes.

Operations and Project Work.

Spanish, English, German, Team player.
Employment
Senior DevOps at nodeguardians.io - May 2022 - Present
Terraform, Kubernetes, GCP and AWS.
Senior Cloud SRE at CAPSiDE/NTT - Feb 2019 - May 2022
AWS, Terraform & Cloudformation. Specialized in Kubernetes and EKS (eksctl, traefik, prometheus, etc…)
Application Delivery Platforms - Web Hosting Member for Boehringer Ingelheim (Ambit) - May 2016 - Feb 2019
Apache, Tomcat, Jboss, IIS, Automation with Puppet and Powershell. Follow the sun Incident Resolution and Project Work (Set up new environments and Migrations) Starting with Openshift, Jenkins and container related workflow.
Subject Matter Expert Microsoft Applications (CSC –Zurich Insurance) - March 2016
Worked on the Microsoft Windows Applications SME team on several projects: data center migration, server refresh and set-up of new applications; worked onsite with the client and collaborated with third parties. My role was mainly Project Management with a technical side aswell. Learned a lot about ITIL Change Management and ORR documents, planning, implementing, meeting and making things happen.
Continuity & Improvement Service Team Member (CSC – Zurich Insurance) May 2015 – March 2016
Pioneer on this job role, was in charge of incident and problem resolution for 1000+ application servers in all stages, several business units and countries, resolved a big amount of incidents and problem records and created a guide on the new job before moving on to SME.
Technical Integration Team Member (CSC – Zurich Insurance) September 2013 – May 2015
Supported a big application portfolio and learned the basics of web server administration (run & maintain, troubleshooting, uptime, on call), where operative tasks, documentation, incident resolution and release deployment were the daily basis.
Education
University of Oviedo, English Philology (2005-2009) and Computer Science (2009-2013),

Christian-Albrechts-Universität zu Kiel (Germany), ERASMUS-Program: Informatics (2012-2013)
Certifications
CKA (Certified Kubernetes Administrator) verify
AWS Architecting Associate verify
Red Hat Command Line skills (RH 190)
ITIL foundations v3
Background Skills (previous to cloud work)
Server Administration

Windows (2003, 2008, 2008 R2, 2012, 2012 R2, 2016 PowerShell 2.0, 3.0 and 4.0).
UNIX (Red Hat 5, 6 & 7, Debian based distros, Solaris, AIX).

Web (IIS 6, 7.5, 8.5 & 10 Tomcat 5, 6 & 7, Apache 2.2 & 2.4, JBoss 6.3 & 6.4, WebLogic).
Devops (Puppet, PowerShell, Automation, XML, YAML).
Basic understanding and knowledge of Programming Languages (Java mainly but bits of Prolog and Haskell)
Basic understanding and experience with Web Languages (Javascript, .Net, ASP)
Basic SQL experience (PostGress, SQL Server, ORACLE).
Containers and Workflow (Openshift, Jenkins, Nexus, Git).
Ticketing & monitoring (ServiceNow, Remedy, TIVOLI, VMWare Service Manager),
Prepare & present Information (MS Visio, MS Office, MindMaps, PhotoShop, GIMP, Gephi).
Project management (GTD, MS Project, ClearQuest).
Stress management techniques, team orientated, good task and relationship balance.
Analytical skills, organized and methodical, minimalist approach.
Other: Driving License and own car & motorbike, experience in several sports including climbing and basketball (team work, risk management), swimming (concentration and improvement) and cycling (endurance).